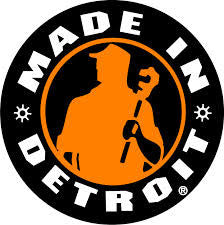 SportsManiaUSA.com
has all the best
Made In Detroit
gear!
It was hatched in 1991 as a spark for a city that'd long been left for dead. It was born of a nod to the backbone that made this place unlike any other. It was built with a forearm, a hammer and a shop hat on a silhouette that stood ready
 to strike. It wasn't just a logo. It was a piece that paid a bit of respect 
to any industry that made America great and a direct link back to the city that fueled it. It's not a logo that was made in a minute. It's not a mark that was made overseas. It's not a brand that was made in jest.
It's
Made In Detroit
and for 20 years it has been the singular symbol for a city that's not about to quit And like a city that's spent the good part of half a century with its back against the wall, in 2005 
Made In Detroit
found itself pinned against some tough times of its own. Bought out of bankruptcy before another Detroit legend could head to dust, Made In Detroit's been refueled by
Kid Rock
 and flown as a flag in t-shirt form on stages all over the world. It's no wonder that an artist who stands for Detroit wouldn't stand by when another bit of his city was taken down. Today, Made In Detroit is more than a
Kid Rock
brand, it's the official mark of a movement that belongs to all of us. Born to represent, this is 
MADE IN DETROIT is avaliable at SportsManiaUSA.com 
Made In Detroit